Central Texas Metal Detectors Always on SALE!!!!!!!
News from Fisher.... Fisher is retiring the one of the best detectors and I have ONE left. The Fisher 1266X - is one of the deepest and most accurate detectors ever made. Being replaced by the 1270X means when they are gone, they are gone!!! Order yours today. Remember they have lifetime limited warranties. And cost about $100 less. Also, Ask about the new Coinstrike or any of our Serious Treasure Hunter Detectors. Central Texas Metal Detectors carries Fisher, Garrett, and Bounty Hunter detectors along with many accessories to help you find your treasures. Give us a call at (254) 526-8992 or email us at CenTxMetalDetectors@earthlink.net.....



Central Texas Metal Detectors & Treasure Site
centxmetaldetectors@earthlink.net
Central Texas' First Multi-Line Dealer!!
Killeen, Texas
United States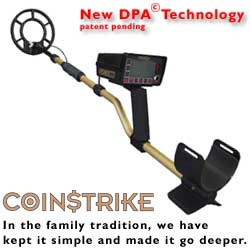 My Favorite Links
Fisher Lab Web Site: "Browse for the detector for you and return to here for the best discount allowed by any dealer. Most Interesting Finds: Every find is a treasure. Check out these Photos.
Visit the Garrett Metal Detector Site and return for the best prices, right here at CTMD.: Link to Detector Manufacturers
Metal "Detector" Page: Visit the Bounty Hunter site for a model that fits your hobby and budget, then give me a call for the best prices around.



Thank you for visiting . We have had
visitors to date.